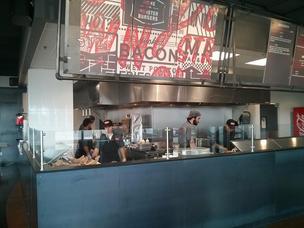 Minneapolis / St. Paul Business Journal reports that a second Streetz American Grill is now open in Hopkins, at the Highway 7 and Hopkins Crossroads intersection.
Streetz is a fast-casual concept by owner Paul Harmon, who opened the first location in Bloomington on Aug. 1. The restaurants serve classic American street food, Harmon said.
Menu items include Chicago hot dogs, Coney dogs, Philly cheese steaks, gyros and burgers. Most items are around $7.
The Hopkins location opened in early December, which Harmon said was later than expected because his furniture shipment was delayed. He wants to open five or six locations, but doesn't have any immediate plans for a third.