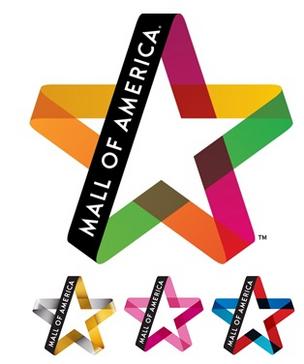 The Minneapolis / St. Paul Business Journal reports that The Mall of America on Wednesday unveiled a new logo and tagline.  The logo is a brightly colored star, although the individual colors are designed to be interchangeable.
The new tagline will be "Always New," playing up the fact that the mall constantly adds new retailers, rides, exhibits and events. That replaces the old mantra of "The Place for Fun."
"Mall of America is never static," Maureen Bausch, the mall's executive vice president of business development, said in a statement. "We are always new, constantly changing to offer the latest, hottest and most memorable experiences for our guests. Therefore, we are moving away from a static logo and incorporating a dynamic colorful design, making use of innovative digital media. The new logo reflects our 20 years of evolution, while paving the way for all of the fresh, exciting, new plans for Mall of America."
The updated logo will appear on everything from billboards to business cards, gift cards to garbage cans. Mall employees will receive new brightly colored uniforms, helping guests easily identify them, and mall gift shops will be stocked with updated apparel, accessories and merchandise.